Woodland Hills Mobile Shredding
Woodland Hills Document Shredding's on site shredding service options consist of driving a mobile shredding truck right to your office.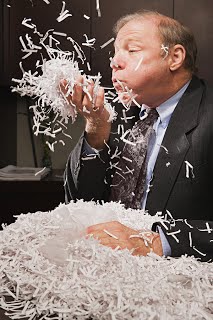 The trucks are completely self-contained and will operate without any additional power source.

Shredding trucks can destroy 6,000 pounds every hour so many jobs only take a couple of minutes. In less than 15 minutes, a shred truck can finish the typical office shredding purge. They can handle jobs from one single box to a warehouse full of boxes.

For regularly scheduled shredding, locked bins are placed in your Woodland Hills office at no cost. You simply drop in your documents. The driver comes by on a standard schedule and shreds your important business data to prevent your records from getting into the wrong hands.

How On Site Shredding Works in Woodland Hills, CA
Collect everything you need to have destroyed in provided cabinets (for scheduled service). No need to remove staples or paperclips.
The papers are shredded in the back of the truck. You can oversee the entire process.
A Certificate of Destruction is given for every job shredded.
The bits are baled, pulped down, and recycled into new paper at a Southern California facility.
Get Free, No Obligation Quotes on Mobile Shredding in Woodland Hills today!
If you are required to witness the shredding of your companies confidential documents, mobile, also called on site, shredding is right for you. Woodland Hills Document Shredding services businesses across Southern California. To get started on your shredding project, fill out the form to the left or give us a call at (310) 606-2066 for free quotes today!